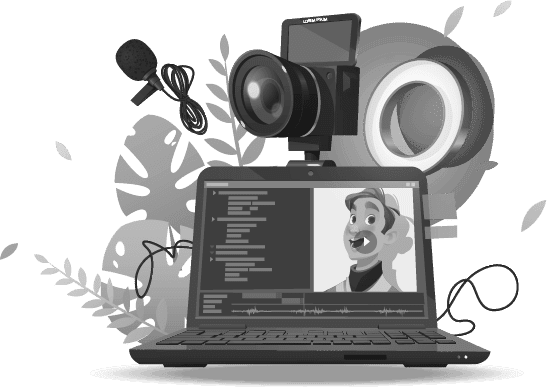 VIDEO EDITING
PROFESSIONAL VIDEO EDITING
PROVIDER
Ready to partner with vR Web Studios, the Professional video Editing provider in Zirakpur, India. If you still have any questions, get an instant response from our Side.
See what we can do
When it comes to video editing, we have a wide range of capabilities and expertise to bring your vision to life. Our team of skilled video editors utilizes industry-standard software and techniques to deliver high-quality video content.
Creativity with filters
Filters are a powerful tool in the world of digital media, allowing you to enhance and stylize your photos and videos in various ways.
Footage Review and Selection
We carefully review your raw footage and select the best shots based on the desired narrative, quality, and overall objective of your video project.
Trimming and Cutting
Our editors skillfully trim and cut your footage to remove any unnecessary or repetitive parts, ensuring that your video is concise and focused.
Bring out your creativity here
In this world of pixels and frames, we provide you with the tools and expertise to explore the vast landscape of video editing and ignite your creative spark. With our guidance, you can transform raw footage into a visual masterpiece that resonates with your audience and captivates their senses.
Pricing Plan
Here is some pricing of Video Editing Services.
₹49/mo
STARTER
We have the best offers in our starter plan.
$199/mo
STANDARD
Our Standard plan offers a comprehensive set of features .
$299/mo
ADVANCED
Our Advanced plan is specifically tailored for businesses that are ready to maximize your SEO Service.
Ready to Partner with vR Web Studios?
DON'T HESITATE TO DISCUSS WITH OUR EXPERTS
Frequently Asked Question
What is video editing?
Video editing is the process of manipulating and arranging video footage, audio, and visual effects to create a cohesive and engaging final product. It involves tasks such as trimming and cutting clips, adding transitions, adjusting color and audio, incorporating graphics and text, and ensuring the overall flow and narrative of the video.
How long does the video editing process typically take?
The time required for video editing depends on various factors, such as the length and complexity of the footage, the desired style and effects, and the level of detail involved. Simple edits and short videos may be completed in a few hours, while more complex projects, such as feature films or extensive promotional videos, can take several days or even weeks to complete.
Can we add music and other audio elements to my video?
Yes, we can add music, sound effects, voiceovers, and other audio elements to enhance your video. We carefully select and integrate audio that complements the visual content and helps convey the desired mood and message.
What software is commonly used for video editing?
There are several popular software options for video editing, including Adobe Premiere Pro, Final Cut Pro, DaVinci Resolve, and Sony Vegas Pro. These tools offer a wide range of features and capabilities to edit and manipulate video footage, apply effects, and refine the overall visual and audio elements.
Why is video editing important?
Video editing plays a crucial role in shaping the story, mood, and impact of a video. It allows for the removal of unwanted elements, enhances visual and audio quality, and adds creative elements to make the video more compelling. Effective editing can captivate the audience, convey messages clearly, and evoke emotions, resulting in a professional and polished end product.
How do I get started with video editing services?
Getting started is easy. Simply reach out to us with details about your project, including the footage you have and your specific requirements. Our team will work closely with you to understand your vision, provide guidance, and deliver a video that meets your needs and exceeds your expectations.
Is it possible to incorporate visual effects and animations in my video?
Yes, we can incorporate visual effects and animations to enhance your video. This includes adding motion graphics, text overlays, transitions, and other creative elements to make your video visually engaging and dynamic.
Can we provide input and make revisions during the editing process?
Yes, absolutely! We value your input and collaboration throughout the editing process. We provide opportunities for you to review the edits and offer feedback. Your suggestions and revisions help us ensure that the final video aligns with your vision and meets your expectations.